During the design phase, we focus on data from the user research to suggest potential designs, involving target users as early and as often as possible.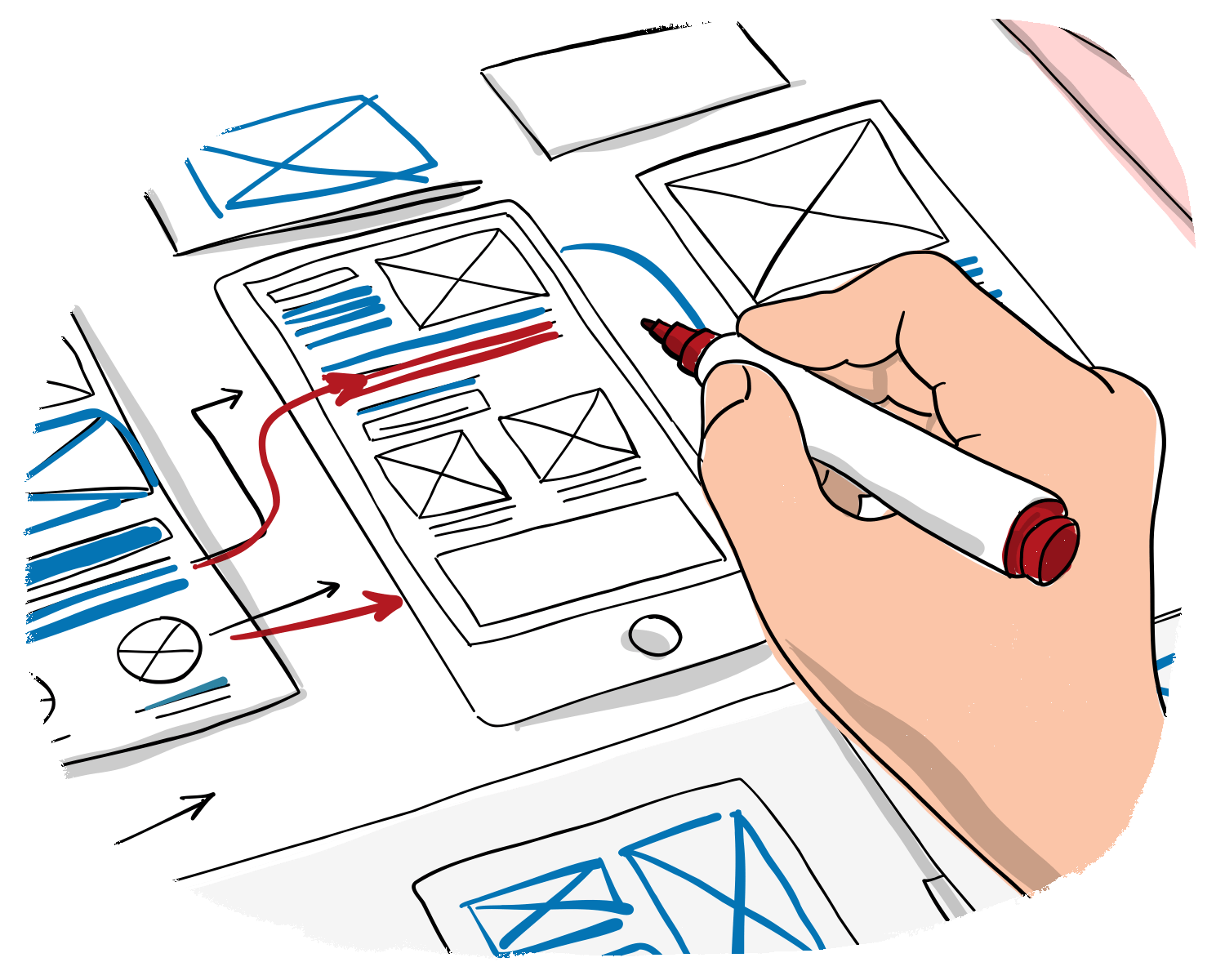 Let's start by defining information architecture. It structures and prioritises website content, or it simulates screen logic models based on different user scenarios ("wireflows") for app content. We will use a number of tools which will allow us to also collect both qualitive and quantitative data from users. Card sorting tells us about the ways in which users organise themselves and the content categories required for a website. For example, the sitemap test allows us to assess the importance of a navigation system at several different levels.
Check the understanding and logic of each key stage and process
Structure has been tried and tested users, not based on past assumptions
Content is structured in a way which matches the thought process of your customers
Wireflows: a diagram of streams connecting the mock-ups, allowing you to visualise the user journey.
Storyboarding & Wireframing
When using a digital product, users permanently interact with a system (human-machine dialogue). This is the dialogue that needs to be modelled.
Modelling and storyboarding are used early in the design stage to come up with design solutions and quickly test them out.
"Wireframing" means progressively building screens starting with structuring components and listing them bit by bit. We check each development stage in an iterative way, by getting the project team to sign it off and through user testing.
"Storyboarding" is one of the methods that allows us to present the relationship between the user and the system: This includes presenting the user experience visually.
We tell a story through a sequence where the characters are system users. It allows you to bring the concept to life, to help understanding and increase engagement in all parties. This method uses classic techniques for visual communication and image arts (Cinema, comic strip, video game).
Inspires co-creativity by encouraging everyone involved in the project to take part
Facilitates communication by sharing a common vision
Saves time and cost, whilst reducing margin for error
Low to high fidelity wireframing

"It's about experience!" Interactive prototyping aims to simulate the interactions between users and the interface as we imagine once the product is finished. As it's only a simulation, no development is necessary: you can give the impression that the product is really working, within a short amount of time. This will allow you to complete very detailed user testing and evaluate the quality of the user experience.
Put forth a model of the final product, early on in the project
Allows graphical, technical, marketing, business teams to estimate their contribution to the project
Provide graphical design and development teams with a functionable deliverable, in addition to a specification document (explaining less, but showing more).
An interactive prototype in which the number of screens depends on the scope of the project
Online access to the prototype as well as a downloadable version
A functional specification document (optional)
Graphic design is a visual communications process which is part of the typography, visual composition, UI elements, iconography, illustrations and photography. It takes the style guide and values of the brand into account. In our projects, artistic and graphical directors must also act in conformity to the advice and ergonomic recommendations outlined earlier by the UX designer and must work closely with them.

It's emotional, bringing it to life and creating a connection with your users
It's coherent, continuing work on this part allows us to be sure that no further ergonomic changes will be made during this phase
It's personalised, putting your brand at the heart of the project
PSD or IA graphic mock-ups
An MVP ("Minimum Valuable Product") is a product design process or service based on the Lean method (Lean Startup Method). It's important to focus on the product's key functionalities at the start, which are then presented to target customers, to quickly check the assumptions. The development time is reduced and we can quickly check if the economic model is viable. We correct problems and repeat the test cycle so that the product doesn't have to be adapted by the final users.
It's effective, when you see users' reactions you'll immediately see if your product offer is suitable for them or not
It's practical, instead of indefinitely discussing what you'll do, you construct, evaluate and learn.
It's quick, the aim is to learn as quickly as possible and not to build the perfect product from the start.
A prototype that is ready to be used by your users
Ergonomic and technical specifications
We can also accompany you on other phases of your project
Which challenge are you trying to solve now?
Select the most appropriate need:

Not finding the right fit for your need?
Get in touch and we will help you solve your need.